The backbone of every successful online store is the e-commerce platform it uses. Choosing the right e-commerce setup is essential to ensuring growth and stability of your online business. Searching for the right platform can be a daunting task, especially with the sheer amount of choices available today.
One of the most common questions our readers ask us is what platform they should choose for their online store. People tend to ask about Shopify and how it compares to some of the other popular e-commerce platforms like Magento. In many cases, we found that there was a lot of misconceptions regarding Shopify and Magento so we decided to provide a direct comparison between the two while also suggesting X-Cart which we believe is a great mid-level alternative to the simple Shopify and powerhouse Magento solutions.
We break down the similarities and differences between Shopify, X-Cart, and Magento to help current and future online store owners looking for the best e-commerce solution for them.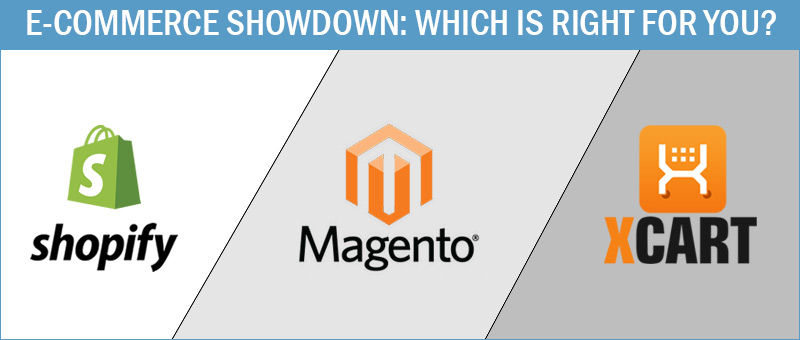 Features & Extensions
All 3 platforms are quite different with what is included out of the box and what can be done beyond that. Shopify, Magento, and X-Cart can all do the basic functions you would expect from an online store like manage inventory, receive payments, have a shopping cart and calculate shopping.
The main differences come in what is included and how each store works with extensions.
Shopify stores are easy to set up and easy to use while sacrificing customization and flexibility. You can drag and drop the elements available to you and make good looking online stores fairly quickly. What you see is what you get and most Shopify stores that you see online today function about the same. Once you are locked into a Shopify model, you cannot stray too far from the features outlined in their documentation. There is not a lot of customization and the marketplace for additional features or extensions is very limited.
Magento is the most robust system in the world and offers the most advanced features to its customers. By setting up a Magento store, you are essentially future-proofing your business and obtaining almost limitless scalability and customization potential.  As your online store grows and your customers demand more flexibility and features, you will be able to provide all of this to them. You have complete control over every aspect of your store and if there is a feature out there that you want, chances are you can make it happen with Magento.
What's great about X-Cart is that it fits somewhere in between Shopify and Magento, finding a great middle ground between accessibility and scalability. It is cheaper to maintain than Magento and is more flexible than Shopify. Those looking for a great bang for buck platform that is fairly easy to use while at the same time allowing for a good amount of customization and flexibility will feel right at home with X-Cart which has a fairly large collection of extensions and advanced features available to its users.
Performance & Speed

Every second wasted loses customers. We always remind our clients about how much slow load times and lackluster functionality negatively impacts conversion. To get the most return on your investment, you have to make sure your store is running as efficiently and loading as quickly as possible.
With that said, Shopify, Magento, and X-Cart are all capable of very fast load times on mobile and desktop devices. The biggest difference is that Shopify is a hosted solution while Magento Open-Source and X-cart are not.
Shopify host your online store regardless of what package you pay for and guarantee fast load times. Because Shopify is standardized and does not offer an over-abundance of advanced features or3rd party extensions, the stores all perform fairly similarly. As long as you do not overload your page with bloated images, a Shopify store will load quickly.
Magento and X-Cart require you to host them somewhere on your own so speed and performance depend on where you host them. Both offer cloud hosting packages and both have dedicated companies that offer Managed E-commerce Solutions which include fast hosting. For example, we use Rackspace and Google Cloud servers for our customers which produce great results.
Keep in mind that if your online store is not optimized correctly with proper extensions and compressed images, this will slow down speeds no matter where you are hosted. Therefore, make sure you are always testing store speeds to make sure you are maximizing conversion.
Design & Compatibility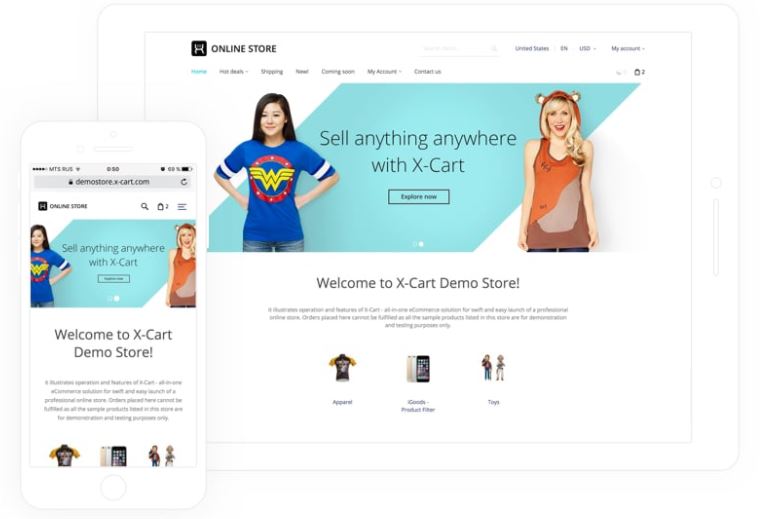 The look and feel of an online store is essential to its success. Designing a good looking store is easier than ever nowadays with how flexible themes and page builders have become. Shopify, Magento, and X-Cart all offer you the option of building your theme from scratch or purchasing pre-built themes using their marketplace or 3rd party theme makers.
Shopify is as always the easiest to use here. You can create something or edit a purchased theme by dragging and dropping the elements on the page. Shopify is built with mobile in mind and the themes you purchase should be mobile friendly.
However, Shopify is not the only platform that offers this now. In many cases, the higher-end platforms also do it better.
X-Cart and Magento 2 both offer page builders as core functions of their platforms. Both of these can create both desktop and mobile versions of your store and can work with a wide variety of themes or help you create something from scratch.
In fact, ever since Magento acquired the Bluefoot and their page builder software to use as a core feature, most would agree that the Magento page builder is now just as easy to use with much more functionality. TO add to this, the Bluefoot page builder is as flexible as the rest of Magento so if you need certain functions added to your backend, it can be done.
Popularity & Market Share
Shopify and Magento are 2 of the biggest e-commerce platforms in the world. There are over 260,000 Shopify online stores worldwide and over 155,000 Magento stores. X-cart has been around for a long time but is not nearly as popular today as Magento or Shopify.
Market share and popularity are great metrics to understand the kind of businesses that use a certain platform but should not be a huge factor in deciding which platform to choose. Many business owners that are just starting a store or run small stores tend to choose Shopify because of the misconception that Shopify is targeted for those people while Magento and X_Cart aren't. In reality, Magento and X-Cart can be great starter platforms for small business because of the infinite scalability of both.
On the other side of the coin, plenty of large organizations and corporations use Shopify showing that it is not simply made just for small businesses.
Inventory Management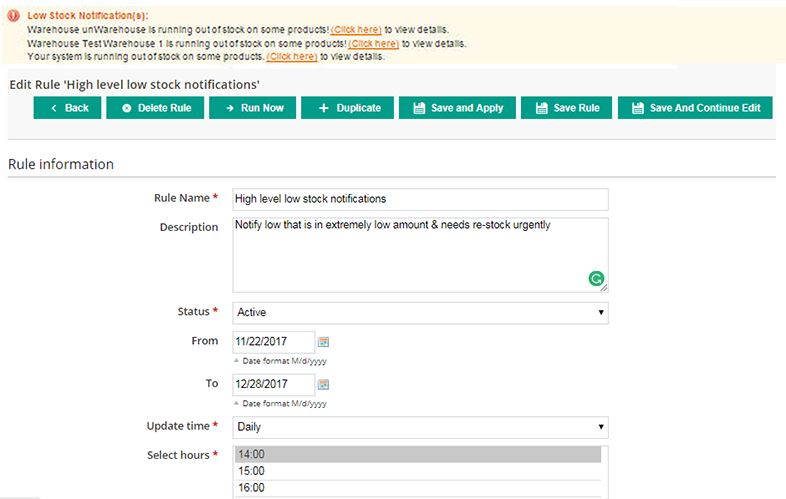 Shopify, X-Cart, and Magento all come with basic inventory management. Adding products, categories and quantities are all here.
Shopify does not have much in the way of advanced inventory management options. This is fine for small or basic stores that do not need advanced functionality or large inventory management. X-Cart is about the same but does have a lot more inventory management extensions out there that can help grow or large stores properly manage their products and provide advance product options and combinations.
Magento shines in this category as the 3rd party extensions and potential for custom-built solutions create a lot of opportunity for advanced inventory management like defining colors and sizes for multiple product lines, multi-stock management, global POS and drop shipping options.
Initial Cost & Maintenance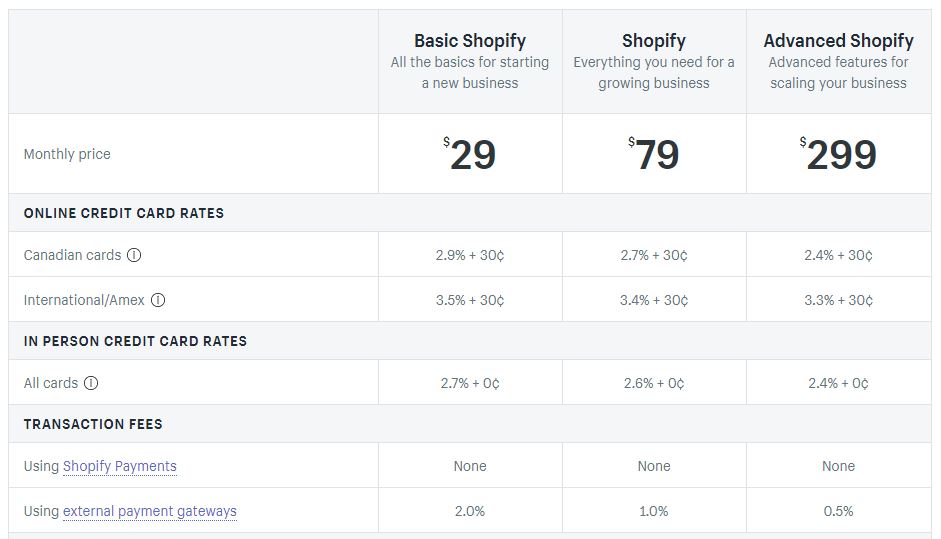 One of the most important deciding factors in choosing which e-commerce platform to use for an online store is the associated cost in getting the store up and running and the ongoing maintenance cost. Shopify, X-Cart and Magento 2 pricing structures work fairly different from one another.
Shopify uses a fairly straightforward subscription system starting at $29 USD per month for the basic version. There is no free version but the basic is cheap enough that if you wanted to try it out, it is a fairly tiny investment in the grand scheme of things. As mentioned throughout the article, Shopify is meant for small business commerce and it is priced accordingly.  It is important to note that this is not the only cost you will incur, even if you do not install any additional extensions/add-ons or purchase any premium themes.
The Shopify limited staff accounts, built-in shipping rates, add-ons and payment gateway fees all have to be taken into account here as they are all charged in addition to your monthly fee., This will vary based on your package as the better packages have lower usage fees.  The basic version will likely be too "light" for people so the majority of users will likely pay the $79 USD a month for the Standard version. There is also the Advanced package for $299 USD per month offering the best support, lowest transaction rates and the most features included in the package.
X-Cart sells their solutions using a license-based system. A free version is available to those who are either looking to work on customizing their online store on their own and do not require the more advanced features the higher packages offer. License fees start at $495 USD and go up as far as $5,995 USD but the most expensive "Ultimate" version comes with basically every feature and popular plugin as well as 24/7 support which is only available as an added cost for the other versions. The license fees are all one-time charges and are good for life. X-Cart also does not charge any transaction fees, does not limit staff accounts and allows for unlimited orders for any version.
Magento has the biggest range in pricing. In practice, a Magento store can range anywhere from a few hundred dollars to over $250,000 a year to set up and maintain. This may seem way too broad at first but it makes complete sense based on how Magento is built. Magento Open Source (formerly Community Edition) is completely free. However, it is not easy to set up and requires certain technical knowledge. Most people without a coding background will not be able to set up, host and customize Magento so the main cost one must consider is web hosting and paying an employee/contractor to set up and maintain the store. Magento also offers the licensed Enterprise Edition. The EE unlocks the systems full potential but at a hefty price tag.
Because Magento is so flexible with it's supported extensions and customizations, the price of setting up and operating it really would depend on what you require from your online store regarding features and design. We highly recommend you also look into Managed E-commerce Solutions where you can pay a few hundred dollars a month to have a dedicated organization who specialized in e-commerce look after every aspect of your store for you.
Conclusion & Final Thoughts
Shopify, X-Cart, and Magento are all great platforms to use for your online store. Which platform you choose depends on what you need from your online store now and what you expect to grow into in the future.
If you are looking to run a simple, easy to use the store with a few products and do not require advanced features or scalability,, Shopify is a great choice.
X-Cart is a great bang for buck platform that offers a good amount of flexibility and potential for the future with its dedicated user base and 3rd party extension library.
Magento for us is the platform of choice and what we would recommend to anyone looking into starting a new online store or upgrading from an existing store to get more functionality out of their e-commerce solution. Magento is a powerhouse offering an immense amount of extensions and advanced features. It is a hefty initial investment and can cost quite a bit to host or manage but when compared to what you get for the $299 USD a month in Shopify Advanced, you may as well invest that kind of money into a platform that offers infinity scalability and limitless customizability potential.
About FinestShops
Whether you are looking to upgrade your current online store or create your first, Finestshops has you covered! Visit the Finestshops website to request a complimentary performance test of your current store or to sign up for a free trial and create your new online store completely free of charge with no commitment.
We use Magento 2, X-Cart or WooCommerce e-commerce systems for new store deployments and re-platforming as well as state of the art Rackspace or Google Cloud data centers that serve 60% of Fortune 500 companies. Our account managers are knowledgeable and innovative; our support engineers and developers are outstanding and customer satisfaction is second to none.
To take your e-commerce to the next level, check out these advanced features, extensions and tips to help you further improve your store.  If you need a hosting partner for your store to fix the above issues and ensure your store is performing at its full potential, consider our managed Magento package hosted using Rackspace Cloud and Google Cloud data centers around the world.